Richard Arsenault Top Lawyers in Acadiana Award 2022
Attorney Richard Arsenault has been selected to be included in the Top Lawyers in Acadiana 2022, and will be featured in Acadiana Profile magazine. This award is based on a per-review survey answered by all certified lawyers in Acadiana. Votes are cast based on the attorney's excellence in their field and dedication to their practice area, and Top Lawyers is based solely on one's standing within their peer group. Nominees are then carefully evaluated for their credentials and leadership in the field of law in Louisiana.
Each year, Acadiana Profile publishes its Top Lawyers list, along with the stories of compelling cases fought by three of the year's qualifying lawyers. In determining the Top Lawyers of Acadiana we use Professional Research Services, a Detroit-based survey company. The voting for the PRS survey to determine the 2017 top attorneys for Acadiana Profile magazine was open to all licensed attorneys in the Acadiana, Louisiana market area. Each attorney was asked which attorney, other than himself or herself, he or she would recommend in the Acadiana area. Each attorney was allowed to recommend up to three colleagues in each given legal specialty. Once the online nominations were complete, each nominee was carefully evaluated on the basis of the survey results, the legitimacy of their license and their current standing with the State Bar Association of Louisiana. Attorneys who received the highest number of votes in each category are reflected in the list by legal specialty.
Mr. Arsenault has been fighting for the rights of accident injury victims for over 40 years. Learn more about Mr. Richard J. Arsenault below, or, call our law firm now at (318) 561-2500 to speak with an attorney. We are open 24 hours a day, 7 days a week. The call and consultation are always free.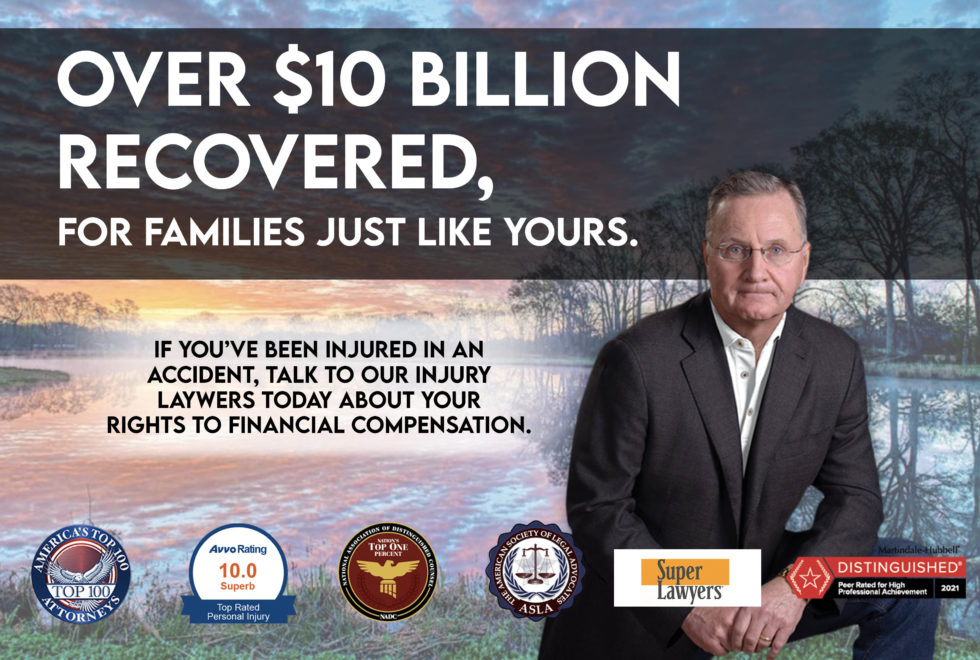 Richard J. Arsenault – Award Winning Personal Injury Attorney 
Richard Arsenault has been recognized as one of America's 50 Most Influential Trial Lawyers by Trial Lawyer Magazine. He has participated in over 25 multidistrict litigation proceedings and currently serves as Co-Lead Counsel in the Actos MDL where a jury rendered a historic $9 billion dollar punitive damage verdict which has been reported as one of the nation's largest personal injury verdicts. He subsequently served on the Actos MDL team that negotiated a $2.4 billion dollar settlement which is the largest single mass tort settlement for a drug that is still on the market. In the Pinnacle MDL pending in Dallas federal court where Richard serves on the Executive Committee, he was part of the Trial Team that secured a $502 million dollar jury verdict against Johnson & Johnson and DePuy, after an 11 week trial. Richard was nominated for the 2015 Trial Lawyer of the Year Award by the Public Justice Foundation and also selected as a 2015 member of the Nation's Top One Percent by the National Association of Distinguished Counsel. The National Trial Lawyers recognized Richard as the 2014 Trial Lawyer of the Year Civil Plaintiff Finalist.
The New York Times has referred to Arsenault as a "big player" in the legal community. The Wall Street Journal has described him as having "national notoriety" and as a "big gun" among attorneys in competition for national leadership roles. Business Week has referred to him as "a Dean of the Louisiana tort bar", USA Today featured him as a member of the "Legal Elite" and the New Orleans Times Picayune has referred to him as "an authority on class actions."
Richard has over 300 articles and presentations to his credit and has authored many Law Review articles including one published in Federal Courts Law Review. Among other writings, he co-authored the chapter on Multidistrict Litigation in an ABA treatise. Richard was also asked by Judge Heyburn, JPML Chair, to participate in the Panel's "Multidistrict Litigation Study Project". He has personally participated in negotiating over $3.5 billion in complex litigation settlements in the last five years.
Call Neblett, Beard & Arsenault Now and Find Out How Much Your Case is Really Worth
If you, or a loved one, have sustained injuries due to the negligence of another person or party call us right away. While most of us believe insurance companies are here to help us, the truth is much different. Insurance firms make billions of dollars by collecting our monthly payments. They lose money by paying out on injury claims. As sad and as frustrating as it sounds, insurance companies have a vested financial interest to deny your claim. But don't panic, you have rights and you have a solution. You can call a personal injury attorney.
Our Louisiana personal injury lawyers have decades of experience. Mr. Arsenault and his team of skilled lawyers have recovered over $10 BILLION dollars for our clients. Don't delay, don't take on an insurance company all on your own. Let us fight to get you paid, and paid the money you deserve. Dial (318) 561-2500 now. The call and consultation are free. In addition, we only get paid if we are able to win money for you. There are no upfront fees or out of pockets costs. Call now and find out how much your case is really worth.