Personal Injury Firm Practice Areas
Suffering an injury due to someone else's negligence can be a devastating experience. Dealing with the physical pain, emotional distress, and financial strain can be overwhelming, especially when you are not sure where to turn for help. This is where a personal injury law firm comes in.
At our law firm, we are dedicated to helping those who have been injured due to the negligence of others. We specialize in several practice areas, including:
Car Accidents: Car accidents can happen in the blink of an eye and can cause serious injuries. Our experienced attorneys can help you navigate the complex legal process and recover compensation for medical bills, lost wages, and pain and suffering.
Truck Accidents: Truck accidents are often catastrophic due to the size and weight of the vehicles involved. Our team has experience handling truck accident cases and can help you obtain the compensation you deserve.
Social Security Disability Benefits: If you are unable to work due to a disability, you may be eligible for Social Security Disability benefits. Our attorneys can help you navigate the application process and appeal a denial if necessary.
Workers' Compensation: If you have been injured on the job, you may be entitled to workers' compensation benefits. Our attorneys can help you file a claim and ensure you receive the benefits you are entitled to.
Offshore Accidents: Working offshore can be dangerous, and accidents can happen. Our law firm has experience representing offshore workers and can help you recover compensation for your injuries.
Mesothelioma: Mesothelioma is a rare and deadly form of cancer caused by asbestos exposure. If you or a loved one has been diagnosed with mesothelioma, our attorneys can help you hold the responsible parties accountable and recover compensation for medical bills, lost wages, and pain and suffering.
At our law firm, we understand that each case is unique, and we take a personalized approach to each client's case. We are dedicated to helping our clients obtain the compensation they deserve and providing compassionate support throughout the process.
If you have been injured due to someone else's negligence, contact our law firm today for a free consultation. We can help you understand your legal options and guide you through the process of recovering the compensation you deserve.
Meet Richard J. Arsenault – Award Winning and Nationally Recognized Personal Injury Lawyer
Richard Arsenault has been recognized as one of America's 50 Most Influential Trial Lawyers by Trial Lawyer Magazine. He has participated in over 25 multidistrict litigation proceedings and currently serves as Co-Lead Counsel in the Actos MDL where a jury rendered a historic $9 billion dollar punitive damage verdict which has been reported as one of the nation's largest personal injury verdicts. He subsequently served on the Actos MDL team that negotiated a $2.4 billion dollar settlement which is the largest single mass tort settlement for a drug that is still on the market. In the Pinnacle MDL pending in Dallas federal court where Richard serves on the Executive Committee, he was part of the Trial Team that secured a $502 million dollar jury verdict against Johnson & Johnson and DePuy, after an 11 week trial. Richard was nominated for the 2015 Trial Lawyer of the Year Award by the Public Justice Foundation and also selected as a 2015 member of the Nation's Top One Percent by the National Association of Distinguished Counsel. The National Trial Lawyers recognized Richard as the 2014 Trial Lawyer of the Year Civil Plaintiff Finalist.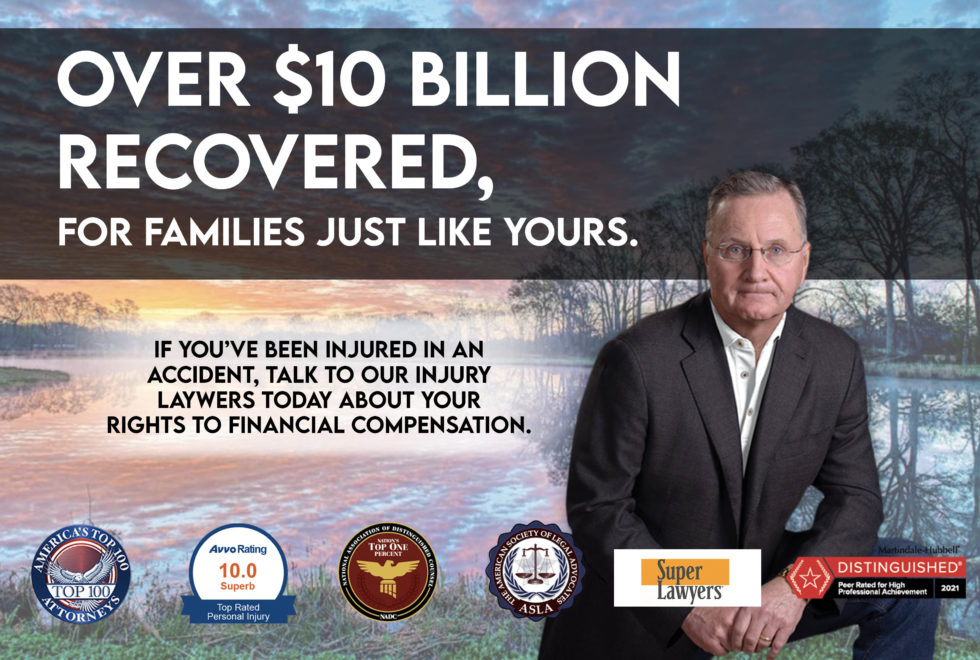 The New York Times has referred to Arsenault as a "big player" in the legal community. The Wall Street Journal has described him as having "national notoriety" and as a "big gun" among attorneys in competition for national leadership roles. Business Week has referred to him as "a Dean of the Louisiana tort bar", USA Today featured him as a member of the "Legal Elite" and the New Orleans Times Picayune has referred to him as "an authority on class actions."
Richard has over 300 articles and presentations to his credit and has authored many Law Review articles including one published in Federal Courts Law Review. Among other writings, he co-authored the chapter on Multidistrict Litigation in an ABA treatise. Richard was also asked by Judge Heyburn, JPML Chair, to participate in the Panel's "Multidistrict Litigation Study Project". He has personally participated in negotiating over $3.5 billion in complex litigation settlements in the last five years.
Hire an Accident Injury Lawyer in Louisiana – Learn More About Your Rights After an Accident Injury 
Accidents happen when we least expect them, and worse, when we are least prepared. Insurance companies paint a pretty picture, that if we pay them money each month, that they will rush to our aid when we need them. Sadly, this is not the case. Too often, honest injury victims are either offered far less money than they deserve, or are flat out denied their claim. Our lawyers FIGHT for your rights after an accident. For over 40 years, our Louisiana personal injury lawyers have put the needs of our clients first.
If you, or a loved one, has been hurt in an accident please call us right away. We're open 24 hours a day, 7 days a week. The call is free, the consultation is free, and you have nothing to lose. Call us today and find how much your case may be really worth.