Richard J Arsenault Invited to Write for the International In-House Counsel Journal 
Attorney Richard Arsenault has been invited to write a paper for the International In-House Counsel Journal. Since 2007 the IICJ has published papers by over 1500 leading in-house counsel on a range of commercial law topics and legal team management. The IICJ is a platform to showcase attorney successes in their fields, and has a global readership of over 200,000. To learn more about the IICJ, you can visit their website here.
Mr. Arsenault, and his team of experienced Louisiana personal injury lawyers, have been fighting for the rights of accident victims for over 40 years. During that time, Mr. Arsenault has been awarded and recognized by a multitude of law firm and peer review boards. From AVVO to Martindale-Hubbell, Richard has been acknowledged by these agencies as one of the most distinguished and highly regarded injury attorneys in the nation. In addition, Mr. Arsenault and the entire Neblett, Beard & Arsenault team take time to give back to the community and to participate in events such as guest speaking, donating time and financial resources, and assisting local youth originations.
If you, or a loved one, have been injured in an accident call our law firm right away. We are open 24 hours a day, 7 days a week. To learn more about Richard Arsenault, keep reading below.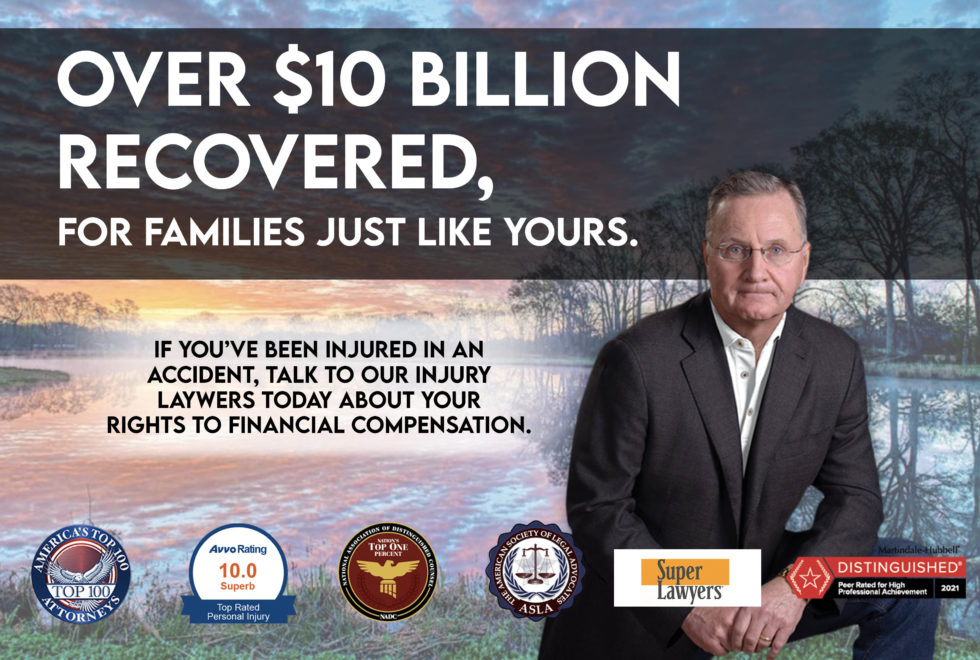 Richard J. Arsenault – Award Winning Personal Injury Attorney 
Richard Arsenault has been recognized as one of America's 50 Most Influential Trial Lawyers by Trial Lawyer Magazine. He has participated in over 25 multidistrict litigation proceedings and currently serves as Co-Lead Counsel in the Actos MDL where a jury rendered a historic $9 billion dollar punitive damage verdict which has been reported as one of the nation's largest personal injury verdicts. He subsequently served on the Actos MDL team that negotiated a $2.4 billion dollar settlement which is the largest single mass tort settlement for a drug that is still on the market. In the Pinnacle MDL pending in Dallas federal court where Richard serves on the Executive Committee, he was part of the Trial Team that secured a $502 million dollar jury verdict against Johnson & Johnson and DePuy, after an 11 week trial. Richard was nominated for the 2015 Trial Lawyer of the Year Award by the Public Justice Foundation and also selected as a 2015 member of the Nation's Top One Percent by the National Association of Distinguished Counsel. The National Trial Lawyers recognized Richard as the 2014 Trial Lawyer of the Year Civil Plaintiff Finalist.
The New York Times has referred to Arsenault as a "big player" in the legal community. The Wall Street Journal has described him as having "national notoriety" and as a "big gun" among attorneys in competition for national leadership roles. Business Week has referred to him as "a Dean of the Louisiana tort bar", USA Today featured him as a member of the "Legal Elite" and the New Orleans Times Picayune has referred to him as "an authority on class actions."
Richard has over 300 articles and presentations to his credit and has authored many Law Review articles including one published in Federal Courts Law Review. Among other writings, he co-authored the chapter on Multidistrict Litigation in an ABA treatise. Richard was also asked by Judge Heyburn, JPML Chair, to participate in the Panel's "Multidistrict Litigation Study Project". He has personally participated in negotiating over $3.5 billion in complex litigation settlements in the last five years.
Talk to an Injury Attorney Now 
Hurt in an accident, have questions about getting financially compensated? Don't worry and don't take on an insurance company alone. Call Neblett, Beard & Arsenault NOW. We're open 24 hours a day, 7 days a week. Our consultations are free, our case reviews are free, and you never pay any money upfront. We only get paid if we are able to obtain a recovery for you. No one wants to get injured, but if you do find yourself hurt due to the negligence of another person or party, we can help protect your rights. For over 40 years, the personal injury attorneys at our law firm have dedicated themselves to defending the best interests of injury victims. Call us today and find out how much your case is really worth. We're ready to help you.